DERNIERE EXPOSITION - LAST EXHIBITION
Le Manoir de Martigny
15.12.2017 - 28.01.2018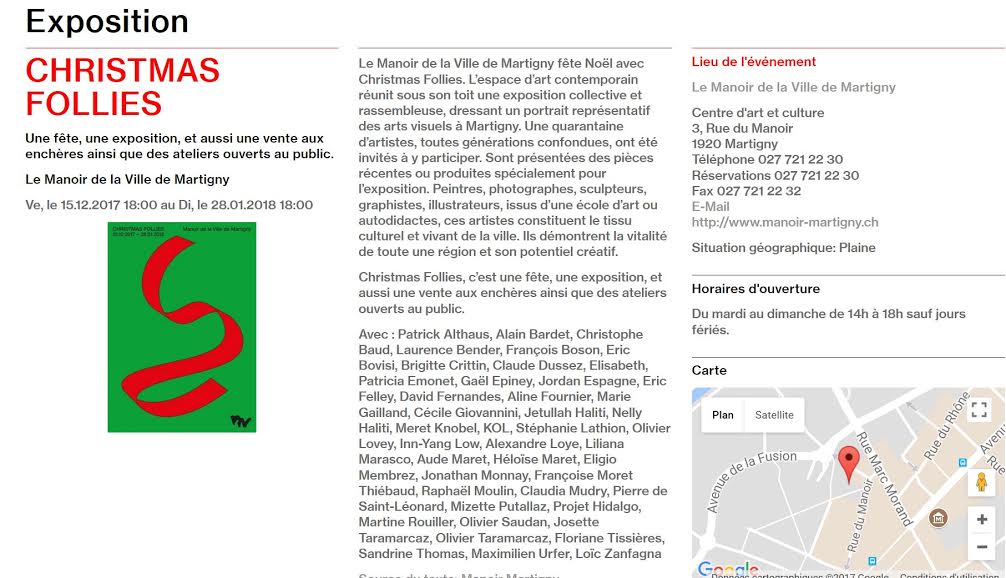 ---
Exposition - USA - Exhibition
15.03.2012 - 15.04.2012
Reflections of Place - Reflets de lieux

VIDEO DE L'EXPO

Collaboration with R. John Williams
American sculptor Susan Clinard and Swiss painter Prisca (Patricia Emonet) join together in a riveting two person show at Kehler Liddell Gallery in New Haven, CT. Both women explore their environment in bold and unconventional ways. Clinard has created a whole new body of work in response to her new studio; a 200 year old Connecticut barn. Her work uses the varied materials found inside the barn which tell stories of the people who were associated with this space over the last two centuries. Prisca masterfully explores landscapes in a much broader geographical context. Her work takes you to Switzerland, Russia, France and Greece, or to a mixture of dreams, impressions, fantasy and rather incredible games of the visual memory. Each artist delves into the unique inspirations, complexities and intuitive responses to their immediate surroundings. Prisca's use of vivid colors on silk and watercolor juxtaposed to Clinard's monochromatic earth tones sculptures offers a wonderful and intriguing balance.
La sculptrice Américaine Susan Clinard et la peintre Suisse Prisca (Patricia Emonet) donnent ensemble une exposition fascinante à la Kehler Liddell Gallery à New Haven, CT. Les deux femmes explorent leur environnement avec audace et originalité. Les nouvelles oeuvres de Clinard sont inspirées de ses découvertes dans une vieille grange de 200 ans où elle a installé son atelier. Son travail utilise les différents matériaux trouvés dans la grange, témoins séculaires de cet espace. Prisca explore magistralement les paysages dans un plus vaste contexte géographique. Son travail vous emmène en Suisse, Russie, France et Grèce, ou dans un mélange de rêves, de fantaisie et de jeux assez inouïs de la mémoire visuelle. Chaque artiste puise dans ses réactions intuitives et complexes à son environnement immédiat. Les couleurs vives des Soies et aquarelles de Prisca juxtaposées aux tons de terre monochromes des sculptures de Clinard créent un équilibre intéressant et magnifique.

Accueil Soies Public Biographie Presse Technique Aquarelles Publications Expositions Liens Contact
© >Prisca - All rights reserved.